At SAP Sapphire 2022, SAP highlighted accelerating business transformation, disruptions, and sustainability as the main challenges that businesses face.
To understand SAP Commerce Cloud, it is always valuable to know the bigger picture.
Summing up SAP's vision, they are reinventing how the world runs as a network of intelligent and sustainable enterprises.
Then, double clicking on SAP CX will help companies navigate the journey to trusted relationships and exceptional loyalty with data as the fuel of every engagement and business process.
Finally, SAP Commerce Cloud nowadays focuses on assuring a profitable revenue for its customers, through agile digital innovations, intelligent commerce, and enterprise-grade commerce.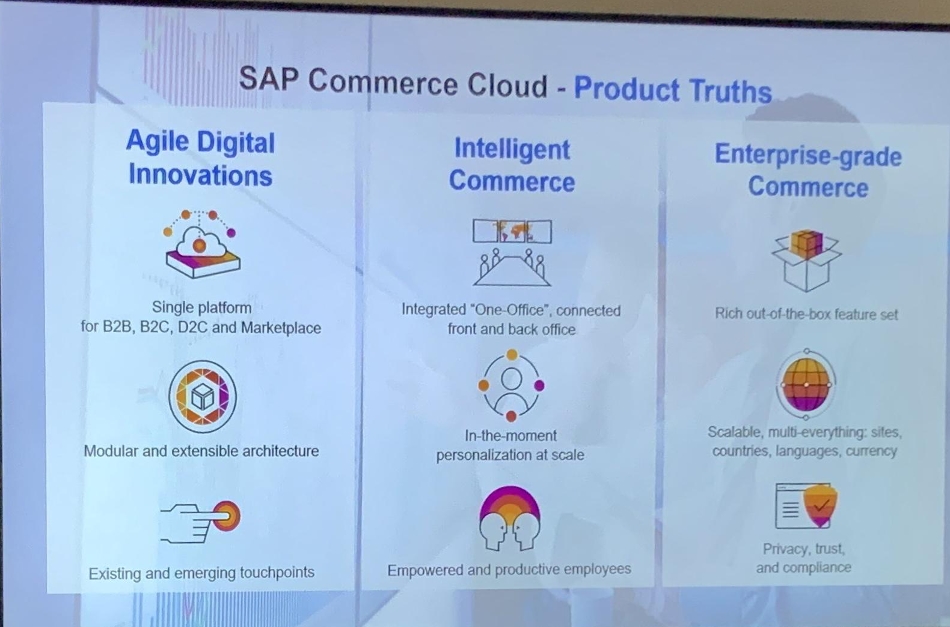 At Pyxis, we have been with SAP Commerce Cloud since before its SAP acquisition, working closely with SAP, top SI, and Enterprises that lead their paths in different industries.
From early days with Levi's, Nikon and other confidential names, to a diversified base of customers that have in common an interest in addressing their commerce experiences with top technical capabilities and advisory for a successful translation of business strategy into their CX space.
Market insights? SAP Commerce Cloud is an enterprise-grade leading commerce platform, and here are a few highlights:
– Customers in over 70 countries and 30 industries
– 12 Data Centers across 5 continents
– 100% Uptime on cyber weeks
– ~5 months for go live as an average
Many success stories prove the power of the platform
– Health & Beauty company with over 57 countries using SAP Commerce Cloud
– Global Electronics Retailer with over 648.000 orders per hour during the first direct-to-consumer gaming console launch (guess who 🙂 )
– Leading Office Supply Retailer with 80% of transactions happening online with 1.5 million monthly web visitors.
Finally, it has a strong customer base, here's a quick glimpse of it.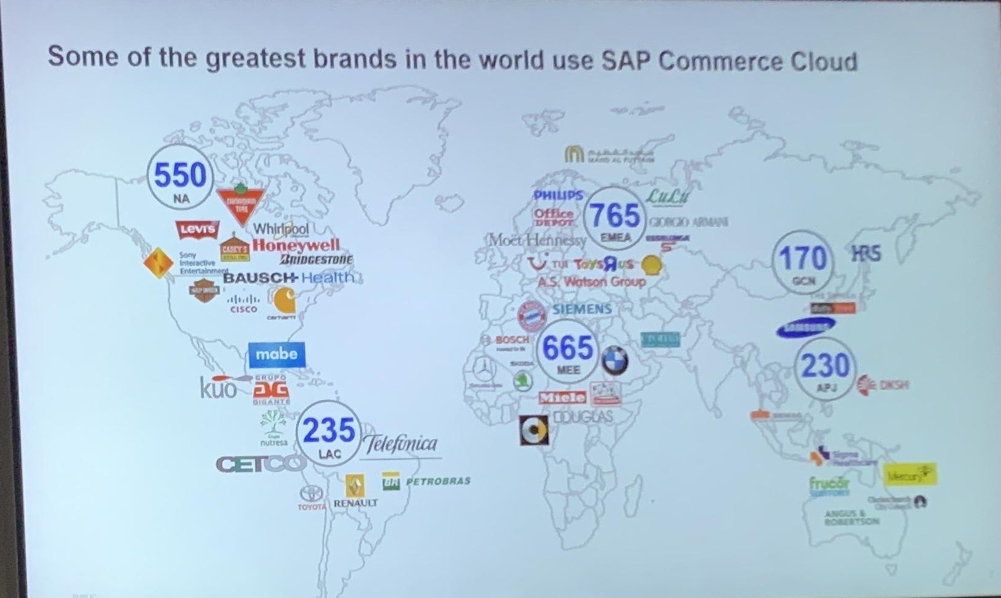 As for how it was built and its capabilities, I can only say it's the most complete and properly built platform out there, working on keeping it up to date with current needs for digital leaders. To do this, they offer a Headless with a Head Strategy allowing companies to deliver commerce experiences through any touchpoint they can imagine (IoT, Mobile, social media, Web, you name it) but already offering a capable progressive web application (web or mobile solution) to deliver professional and performant experiences.
This Headless architecture, is extensible through SAP BTP – Kyma Runtime through APIs, Events, and Webhooks promises to keep customers in a digital leading commerce platform while taking good care of the existing features and implementations out there.
One of the main gains of this type of architecture, is to allow faster iterations on SAP Commerce Cloud versions because it will become a 100% SaaS solution extending instead of customizing the platform.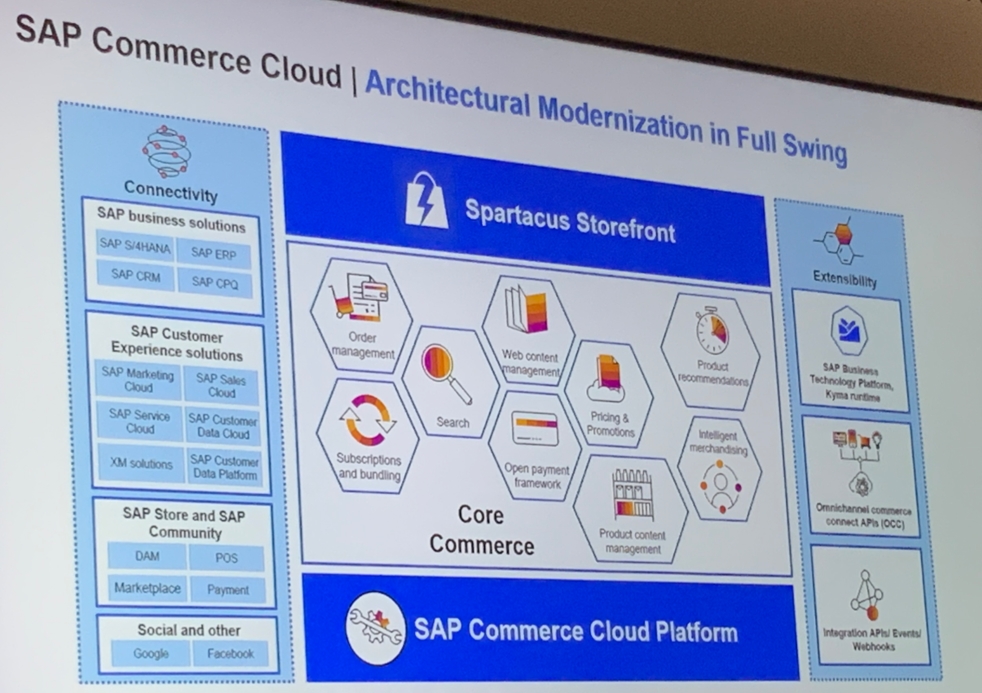 As seen in the picture above, the core commerce services become key assets for a succesful SAP Commerce Cloud implementation, in which the platform will be extended through OCC, Integration APIs/ Events and Webhooks. Finally, Spartacus on top allows a headless with a head experience for customers that can still decide to go in a different direction with a AEM or Contentstack CMS for their storefront.
In the next post, we will go through the key roadmap topics, why they are in the roadmap and what they mean, from a business and technical perspective.
If you want to stay in the loop, it's easy, just subscribe to our newsletter or drop a line to guillermo.segalerba@pyxis.com.uy to know more about customer experience, and its trends for leading enterprises.